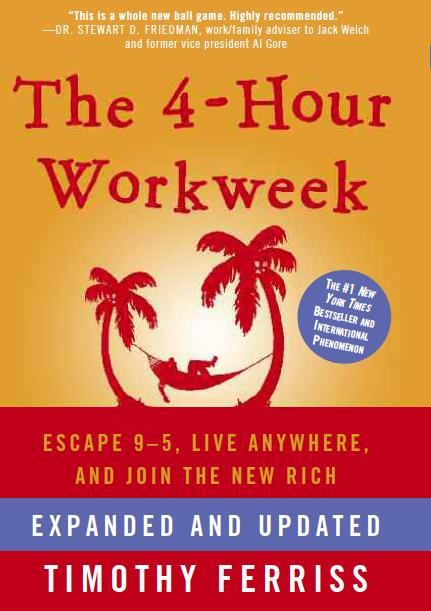 Throughout the semester, we will be reading a book called 
The 4-Hour Workweek: Escape 9-5, Live Anywhere, and Join the New Rich
 (4HWW). Tim Ferriss, the author, has some interesting views on the process of starting a business and lifestyle design. We will read the book over 14 weeks, which gives cushion at the beginning and end of the semester. We will read through page 307 and may reference some of the supplemental materials at the end of the book. Reading 307 pages over 14 weeks means we will read about 22 pages per week (3.1 pages/day over 7 days or 4.4 pages/day over 5 days).  
In order to demonstrate your understanding and completion of our reading materials, we will ATTEMPT to use a discussion-based format. If the discussion format is a failure, we may need to revert back to the dark ages of weekly reading quizzes. 
We will leverage the TQE Method as our discussion format. In class, we will look at the links below to learn about the TQE Method steps or process. 
How will this look in our class?
Each week on our discussion day you will break into small groups of 5 or less (may be adjusted).
If you are not done reading, you can finish in the hall and then join the discussion.
There will be a digital discussion group option available using a collaborative page (8 students max).
You will have 10 to 15 minutes to discuss your TQE's (thoughts, lingering questions, and epiphanies). The goal is to be actively discussing the whole time. 
Use the links above to reference discussion stems or prompts. As we move through the semester, hopefully, discussions become more complex. 

Looking for meaningful conversations, more than, "It was good" or "I liked it". Keep asking why. Make someone cry (not by being mean). 

I would recommend recording your conversations (eg. notes). The collaborative page can be used.
At the end of the time period, each group needs to choose their top 2 TQE's and add them to the collaborative page for that week. 
Remember to look at the tips from the We're Killing the Love of Reading link above.
Once each group has added their top TQE's, we will discuss them as a large group (the format may change, see the We're Killing the Love of Reading link above).  
Each week I will keep track of the students actively participating (not distracted) in small group and large group discussions (tracked in Skyward and/or a spreadsheet). If you are actively participating (not distracted), you will receive credit for that week (5 to 10 points per week).
If you did not receive credit for a week, there may be alternate opportunities to receive those points.
If you are gone during our discussion day, you will need to meet with me outside of class to discuss the reading or explore alternate opportunities to receive those points.
---
---
Digital Discussion Group (8 Students Max) 
- Add your name to each post
Small Group Discussion Collaboration & Top 2 TQE's 
- Add your group member's names
---
- Add your name to each post
- Add your group member's names
---
New smaller group numbers, shown above. 
Each group will share out their TQE's with the larger group looking for answers (questions) or feedback/followup (thoughts or epiphanies). 
- Add your name to each post
- Add your group member's names
Fail Better Challenge - $30 Food-Based Reward
Your book describes this challenge in more detail and includes strategies for success. The winner will be eligible for a food-based reward based on their input (eg. two lunches for you and a few friends). I have to purchase the food reward and it will be up to $30. 
Contact an impossible to reach person and get them to answer at least one
genuinely interesting question
about their life.
Here are the stipulations/rules:
I have to approve the person
It cannot be someone you know or have a connection with already
You have to have evidence of the communication (video, recording, email, etc.)
Only one prize will be given to the first person to successfully complete the challenge
The Challenge - Dreamlining 20 pts
We have already looked at goals for our future, but as your book describes, dreamlining is different. Complete the Dreamline Worksheet linked below to create your ideal future. You are creating a six-month dreamline. Make sure to have five items in each category (having, being, doing) with realistic costs (may require research). Choose your top item in each category and follow the instructions to determine your TMI and TDI for those three top items. Also, include three or more steps you can take now to make the top dreamline items a reality.
Show me
your completed dreamline in class for credit and be ready to answer the following questions:
Were you surprised by the TMI and TDI amounts? Was it more or less than you expected?
Which of the items gets you the most excited?
Will you actually take steps to make any of the items a reality? 
Comfort Challenge: Learn to Eye Gaze
Give the comfort challenge a try. We will talk about it on our discussion day and get feedback next week. 
---
ph